In case the Bush tax cuts, the millions Halliburton has "lost" in Iraq, and the abolition of the Estate Tax (for those who work so hard at not working) weren't scandal enough, the New York Times reports on tax reforms from 2003 that are effectively allowing companies to defraud millions from the US government--and get away with it.
Oh, but those of you who work for a living? Don't get any funny ideas about your taxes : somebody needs to be left holding the bag.
Agents Say Fast Audits Hurt I.R.S.

Top officials at the Internal Revenue Service are pushing agents to prematurely close audits of big companies with agreements to have them pay only a fraction of the additional taxes that could be collected, according to dozens of I.R.S. employees who say that the policy is costing the government billions of dollars a year.
While the Bush Administration has been infuriatingly overt in many of its corporate giveaways over the past years, issues of IRS enforcement are being conducted far more insidiously, out of sight of the American Public and Congress:
Mr. Lynch, the auditor who retired in California, and many others complained that the effect of the policy was to allow the Bush administration to achieve administratively a further easing of the corporate income tax burden far beyond what Congress has approved legislatively.
Reforms enacted in 2003 to speed up the audit process encourage supervisors to take what should be general estimates of how long an audit will take and turn them into hard deadlines. Agents complain that as a result, they are discouraged from bringing in outside experts to review cases or spend time looking into questionable deductions that pop up during the course of an investigation.
The reason, she explained, is because supervisors receive cash bonuses, promotions and other benefits based on closing cases within the time allowed, not on the quality of audits or the dollars collected.

"When a person is rewarded monetarily for keeping to the cycle time," she said, they are going to close audits to get their reward.
Real investigations take time--and sorting through all those shenanigans is not quick, potentially pushing the investigation past deadline and jeopardizing bonuses.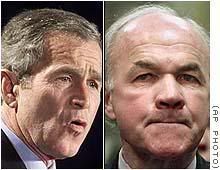 Apparently, the President thinks time tables are only important when waging corporate warfare.
But agents are speaking out, upset that they are expected to turn a blind eye to illegal corporate giveaways, frustrated at the ways in which their hands are being tied and unable to perform the duties of their job. They are especially appalled by the institutionalization of the policy.
"It's catch and release," said Douglas R. Johnson, an I.R.S. auditor in Colorado for three decades who said he grew so frustrated at how large corporations were allowed to pay far less than what he thought they owed that he transferred to the agency's small-business division.
In a two two-tiered system in which the rich are above the rules, many agents are doubtless transferring to divisions that still expect them to execute their jobs--after all, small business owners and individuals are still expected to refrain from defrauding the government--but many more are choosing to retire or leave the I.R.S all together.
The institutional effect of such a brain drain will mean that even after the Bush Administration is long gone, many of the corporate auditing practices now in place will continue to encourage large companies to cheat the government of millions of dollars. The effects could stretch out over decades, further exacerbating the tax burden on the lower and middle class as wage earners and small businesses pick up the tab.
Which is exactly what Karl Rove means when he referred to "a permanent majority": Republicans have rigged every level of government to favor the rich and corporate classes with as many institutional advantages as possible, so that even if they ostensibly lose power, the system will be so stacked in their favor that undoing their hold on government through elections alone will not constitute anything more than a chance for Democrats to pick out new curtains for the office.
So add it to the already long list of issues for Democrats to tackle as we head into the first 100 hours of clean up. Because in an era of offshore accounts, backdated stock options and undisclosed CEO packages, we can't afford for our nation's tax policy to allow large corporations to hump any more money out of the federal piggy bank.
Update: Ivorytower diaried this first: