I've recently taken to consuming narcotics. I wouldn't say I'm an addict by any stretch. But I certainly smuggled a banned substance into the U.S. from South America for my own consumption and for sharing with friends. I got into this drug on a recent trip to a foreign country, where it was easily accessible. I consumed it day and night during my 2 weeks there. I bought it off the street, got it in my hotel, even at one point got some from a church. I gave this drug to the people I met as a gift, and shared it with the bus driver on my trip as well. What can I say? I'm a criminal!
That is all true, if you listen to the U.S. government. Because the substance in question is coca leaves. Coca, of course, is the plant cocaine is made from. But coca and cocaine are world's apart. I'd argue that you're better off consuming coca than Coca-Cola.
Why does this matter? Because the U.S. wants to (and is succeeding at) classify coca leaves as narcotics to be stamped out internationally. Bolivia has recently protested this - with good reasons, that I will share. Coca is more than just economically, culturally, and spiritually important in Bolivia. It's a nutritional necessity, plain and simple.
The U.S. is taking an incredibly misinformed and cruel position.
You can read the news in recent articles from AFP or BBC, or a somewhat more whimsical but related story on Salon. Taken from the BBC story:
Bolivia wants to amend the 1961 UN Single Convention on Narcotics Drugs to remove language that bans the chewing of coca leaf.

The convention stipulates that coca-chewing be eliminated within 25 years of the convention coming into effect in 1964...

Its proposal would leave in place language that makes coca a controlled substance.
I've written at length about coca, cocaine, and U.S. drug policy on my own blog (see part 2 of it here). As for my statements above about being a consumer and smuggler of drugs, I began drinking coca tea hours within my arrival in La Paz this past fall. The city is over 2 miles high in altitude, and I flew in from Lima, Peru, which is at sea level, so my body was not acclimated at all. Coca is useful for dealing with altitude sickness.
The tea tastes like a mild, grassy green tea. I felt no effects whatsoever. I can only hope it helped my altitude sickness because I felt like shit that first day, and again when we flew from Bolivia's rainforest (1000 ft in elevation) back up to La Paz and then drove even higher into llama country. I certainly didn't get high. Nothing even close. Honestly, I've felt more from caffeine than I have from coca.
I brought about $2 of coca back into the U.S. (which is actually a decent amount of coca - the stuff is cheap) to drink as tea and to share with fellow hikers who need something to cope with altitude sickness when they hike up nearby Mt. Whitney. You could make an absolute minuscule amount of cocaine from the coca I brought back.
I tried "chewing" coca too, which is a misnomer because what you really do is bruise up the leaves a bit in your mouth, and then suck on them. You get more of the alkaloids out of coca that way, but in my opinion it tastes terrible. I didn't feel high or anything from that either.
But aside from the fact that coca leaves themselves are hardly a drug, why should they be moved from the list of narcotics?
Coca in Andean Spirituality
Coca plays a BIG role in Andean spirituality. In the traditional dress of village leaders, the men sport special bags used for carrying coca. In the Andes and especially in the mines (Bolivia has incredible mineral deposits and mining is a major industry), coca is given as an offering to the gods to bring good fortune and to avoid bad fortune. This is a modern day practice as well as an ancient one. Go to a mountaintop in modern Bolivia, and it's likely you'll see the remains of an offering someone left.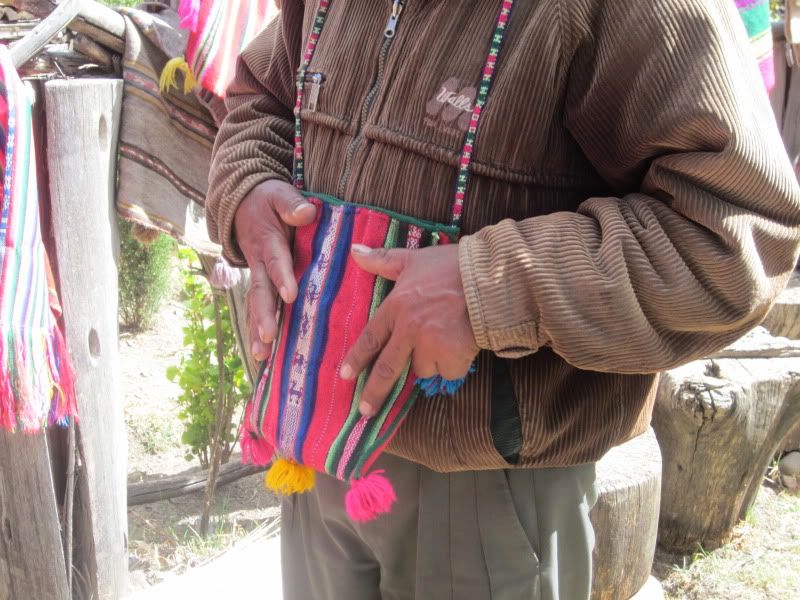 Special hand-woven bag for community leader to carry coca in

An offering, on a mountaintop near the Tiahuanaco ruins. There's no way to tell what the offering contained, but you can bet it included some coca.
Coca's Medicinal Uses
In Bolivia, coca is often used to stave off hunger and fatigue. Think of it like drinking coffee to help you stay awake at work, although it also helps with hunger too. It's used to deal with altitude sickness, and with other ailments, like headaches. In a country with high poverty and hunger (I think second in this hemisphere to Haiti, although I also think Haiti is far worse off than Bolivia), having coca to chew to deal with hunger is quite necessary.
Coca's Nutritional Uses
I don't think this is necessarily WHY people chew coca, at least not consciously, but coca fills a nutritional gap for the Andean people. The most bare bones diet in the Andes consists of lots and lots of potatoes, some grains, and perhaps some fava beans or a few uniquely Andean crops like tarwi. And, um, maybe some guinea pig (yes, they eat it). This is NOT a position Americans would ever find themselves in, I don't think. Imagine, an entire diet mostly consisting of potatoes, barley, oats, quinoa, beans, and really not much else.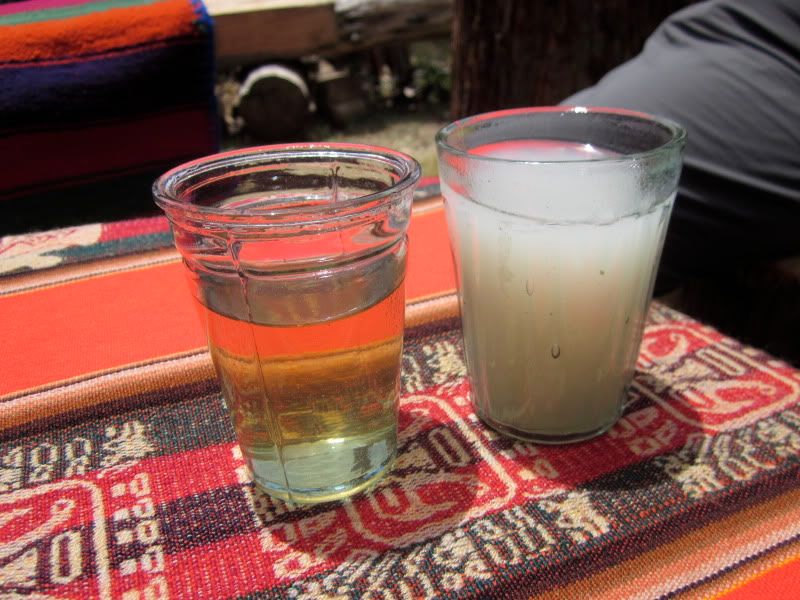 Thirsty? We've got barley juice and quinoa juice. Photo near Lake Titicaca, Bolivia.

For lunch we've got potatoes, potatoes, dried fish, and oh yeah... more potatoes. Photo taken in an indigenous village near Lake Titicaca. This village grows 45 kinds of potatoes. See the whole meal here.

Yum, dinner

Don't even think about growing crops here. Oruro, Bolivia
Coca, it turns out, provides Andeans with calcium, phosphorus, and iron. Taking coca out of the diet would be nutritionally disastrous. Perhaps there is something (or a few things) that could be grown to replace coca in a poor peasant's diet in the Andes, but my hunch is that if there was, they would have found it already. These are some of the harshest environments in the world, 13,000-14,000 feet above sea level, with a very long dry season, and in some places almost no moisture at all. In some places, you can't really grow crops, you can only raise llamas and alpacas.
Coca grows at a lower altitude, in a similar climate as coffee. The leaves are dried, so they do not require refrigeration and they make for easy storing. It's not a given that all of the people there have refrigerators, or even running water. Given their limitations, I really do not know what other foods could fill a nutritional gap left by coca if coca were eliminated.
Coca and Cocaine
The Bolivian coca/cocaine issue is a complex one that is not all good. I recommend reading the blog posts of mine that I linked to above, but in short, the process of making cocaine - not growing it but actually extracting the necessary chemicals from the leaves - ruins lives. Many lives. It's horrible. It doesn't even pay particularly well.
True, there are farmers who make a living growing coca for cocaine, and true, some people get very rich from the drug trade. But cocaine causes more harm than good to Bolivia as a whole, I would say. That's a bit of an aside from the issue at hand, but I think it's worth knowing.
Of course Bolivia is not going to give up chewing coca because the U.N. says so. Nor will Peru, I would imagine. But it would be nice if our own country wasn't being such a dick on this.